A letter from construction site
MURAKAMI ARCHITECTS and BUILDERS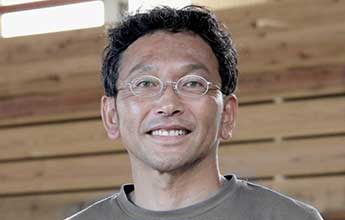 MURAKAMI Yukinari
President & Representative Director

Master Carpenter

First-class Authorized Architect (1st-class Kenchikushi) and Building Engineer
Certified by the Ministry of Land, Infrastructure, Transport and Tourism
A graduate of the Architecture department, Waseda University

Factory
Carpentry Workshop & Lumber Mill

Address
997-2 Kamihori
Minamibousou city Chiba JAPAN

Contact
tel 0470-20-6097
fax 0470-20-6098
Traditional Construction and Carpentry in Synergy with Leading-edge Innovations

Properly trained Japanese carpenters know all about wood
Properly trained Japanese carpenters – those who have apprenticed under a master carpenter for six full years – learn to treat each board, each piece of wood as a unique object. The carpenter will study the wood's grain, which way it tends to warp, and other variables to decide where it should be used and in what orientation, determining which side should go up and which other wood will look best in combination.
The methods that created some of the world's oldest continuously standing wooden structures have changed little over the centuries. They have evolved, but slowly and only after proving their advantages.
Knowing the Old and the New
At Murakami Architects and Builders, we know the old and the new. We take the best of both to give you a one-of-a-kind residential artwork that provides comfort, visual beauty, energy efficiency and structural integrity.
Japanese Wood from Sustainable Local Forests

Did you know? Iimported lumber is ofen unsuited to Japan's climate
Unless your project will be built near a major timber producing area, most builders will use imported lumber, not necessarily suited to Japan's hot and humid summers, not to mention earthquakes and typhoons.
Murakami uses local wood with traditional hand-cut technique
How would you like to live in a home constructed of native Japanese lumber grown on a nearby mountain using sustainable forestry methods, and cut using traditional carpentry and joinery principles?
Murakami uses local wood as much as possible and makes the most of each log, milling it in-house to make everything from beams to floorboards – thereby minimizing waste.
Solid, natural wood contributes to a healthy house and a sustainable environment.
A Better Way to Build Your Dream House – with Timber Frame Joinery

Tradition plus Creation
Whether you are renovating your interior in Tokyo or planning a home in the country, Murakami Architects and Builders offer unique solutions.
With Murakami you can enjoy the best of both worlds – all the aesthetic pleasure of natural wood, lovingly hand-crafted using authentic Japanese joinery techniques, plus the freedom to create a dream space that is truly yours in every detail.
Many of Murakami's clients seek him out after learning – to their surprise – that most traditional builders in Japan are not eager to try anything new. Murakami is the opposite. He apprenticed in Awaji-Island with one of the most respected master carpenters in Japan, but he also has a degree in architecture and loves a challenge.
Architecture that Makes Your Dreams into a Home – but Who Will Design It?
Murakami as a carpenter and as an architect
Whether you already have an architect or just a hand-drawn sketch, Murakami is eager to talk about how he can transform your ideas into the living space you want.As a licensed architect, he can discuss with your architect how to best implement that design through traditional building techniques.
Or he himself can provide the professional design and planning expertise you need, plus the experience and knowledge of Japanese traditional craftsmanship to bring out its full potential in natural wood.
Aesthetics balanced with regulatory and structural requirements
Few architects who are not also carpenters, understand the fine details, constraints and flexible possibilities of traditional Japanese post-and-beam architecture using solid, natural wood, particularly when it comes to structural integrity – how to balance aesthetics and regulatory requirements; how to avoid ugly metal fixtures.
Murakami's work reflects a rare combination of fine artisanry, fresh ideas and structural engineering that goes above and beyond Japan's most stringent regulatory requirements for quake-resistance, weatherproofing and thermal insulation.